About Us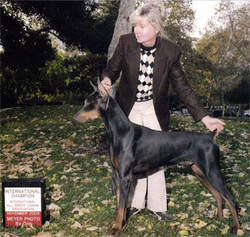 Holder Park has been producing top quality Dobermans for over 20 years. Sue Holder has been a member of the Doberman Pinscher Club of America prior to 1987. Holder Park's line of Dobermans is heavily influenced by the Marienburg Dobermans. Marienburg Kennel, " Mary Rodgers", was awarded the American Kennel Club All Breed, Breeder of the Year in 2004, for her work in improving the health, temperament and quality of the purebred dog. This is the highest honor a breeder can receive. We are very fortunate to have started our kennel with Mary's influence.

At Holder Park , we strive to maintain the Doberman Pinscher to the conformation and temperament standard for this breed. As to temperament, the Doberman is the only breed originally created for its character to protect man. Their loyalty as a family guardian exists deep in their makeup. Dolphins have been known throughout the ages to save people form drowning. This trait exists in their makeup naturally, and is really inexplicable. The Doberman was created as a breed with something like that natural trait. In the "Breed Standard", there are a handful of words related to "character" that is the hallmark of the Doberman Pinscher today. These words are; Proud, Noble, Energetic, Watchful, Determined, Alert, Fearless, Loyal, and Obedient.

Our particular line is well suited for the family environment. They are not attack dogs, but they do possess the courage and determiantion to protect, and the intelligence to know when it might be time to be alert.

The puppie's final evaluation is done when they are approximately 8 weeks old. We normally don't release the puppies until they are nine weeks old. Our puppies' socialization starts early. We strive for dogs that are confident with children, adults, and other animals. The Doberman is a wonderful breed to start with. We take that and work to bring out the very best qualities necessary for family life. At Holder Park our goal is happy dogs, happy dog owners, and placing the right dog in the right home.
---